Site Map
Click here to view a larger .PDF version of the map.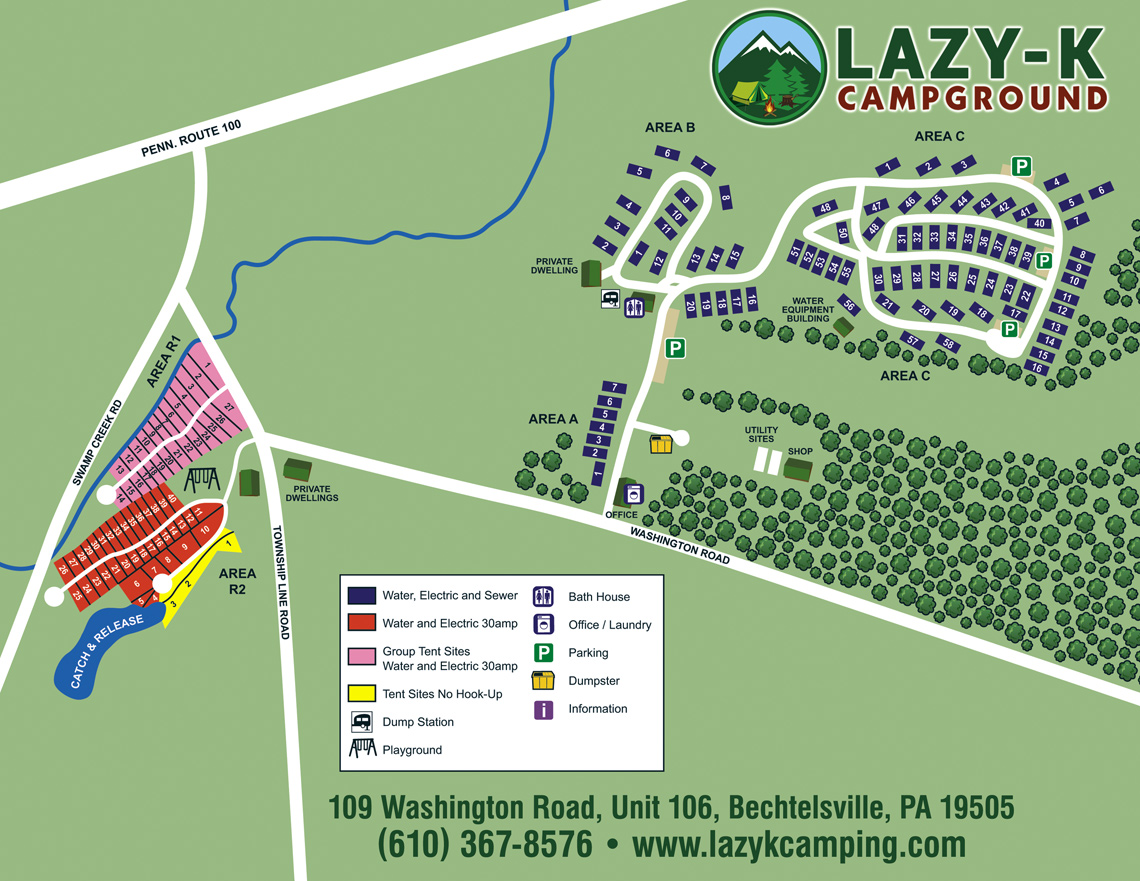 Campground Rules
• DRIVE SLOWLY AT ALL TIMES - CAMP MAXIMUM SPEED 5 MPH, STRICTLY ENFORCED!
• Visitors: All visitors must register at the office and pay a registration fee.
• Smoking: No smoking in any bathhouse or in the park office.
• Motor Vehicles: Only one vehicle per campsite. All other vehicles and visitors must park in visitors' parking lot. PLEASE DO NOT DRIVE OR PARK ON THE GRASS!
• Check-in / Check-out Times: Checking in before 12:00 Noon constitutes half a day's fees. Check-out time is 12:00 Noon.
• Pets: Pets must be kept on a leash at all times. Restrain them from annoying other guests. They may not be left alone in the campground. Pets are not permitted in the bathhouse. Clean up after all pets and discard refuse in proper receptacle.
• Campfires: Build fires in designated fireplaces and rings only. Do not move fire rings. Do not burn trash or leaves in fire rings.
• Trash: Do not burn trash. Dumpsters are provided for campground-generated trash. Do not drive with trash on the outside of your vehicle. Aluminum cans must be recycled.
• Trees: Save our trees. Do not drive nails, axes, saws, or knives in our trees or tables. Cutting, chopping, mutilating, de-barking trees - dead or alive - is prohibited. Do not hang wash lines or other items from our trees. No hanging of laundry outside.
• Children: Your children are your responsibility anywhere on the premises. Children 12 and under must be accompanied by an adult at all times. Children may not be left in the campground without a responsible adult.
• Bicycles: No bike riding on the grass. PLEASE DO NOT DRIVE OR PARK ON THE GRASS!
• Water Usage: Water splitters are not permitted on hydrants. Washing dishes, clothes, and pets is prohibited in rest room or at water outlets. Car and camper washing is taboo!
• Streams & Ponds: Do not contaminate our streams or pond. Do not allow children to throw stones, sticks or other items into the pond or streams. No boating or swimming in pond.
• Respect Your Neighbors: Keep rest rooms and campsites clean of litter and dog dirt. Honor other people's campsites by not running through them.
• Prohibited Items: Electric heaters, washers or dryers, electric blankets, firearms, fireworks, or spotlights are not permitted. Operation of drones, hoverboards, or motorbikes is not permitted in the campground.
• Satellite Dishes: Satellite dishes are only allowed mounted to your vehicle or in stoned areas. No posts or pins are to be driven into the ground.
• Carpets: Carpets are only permitted in gravel areas. Do not put carpets on grass!
• Quiet Hours: No unnecessary noise before 8:00 AM or after 10:00 PM.
• We reserve the right to evict, without prior notice, anyone who creates a disturbance or nuisance or deliberately breaks any of the above rules. No repayment of camping fees will be made in the event of such an eviction.